Dragon Age: How Shanghai Went From Good to Great
Fortune favors the bold. In competitive endeavors, the Overwatch League included, risk-taking is a necessary ingredient when one wants to brew and bottle success. To reach the highs needed to win, some sort of gamble must be made.
Think back to the league's inaugural season. London, for all the talent their superteam possessed, risked a chemistry disaster that held together long enough to win a trophy before blowing up a year later. Even NYXL, the league's most successful franchise over two seasons, came into the league with a reputation for brilliant play but choking in the clutch.
Last year, San Francisco pulled off their "Golden Stage" and swept their way through the lower bracket on the way to a championship. Their bet was on Crusty and his ability to manage a team with more talent than it could field at any one time. They left an MVP candidate on the bench for most of the season, but Striker proved vital in the playoffs.
This offseason, the Shanghai Dragons decided to push their chips in and take a chance. Instead of resting on their laurels – a Stage 3 title and a Play-In appearance were a massive win after the infamy of 2018 – They decided they could do even better.
In free-agency, they shored up their strengths, adding Fleta and LIP to unlock the true potential of DDing and diem as specialists. Now, rather than having to cover every base, those two can focus on the heroes that they are otherworldly on, Pharah for DDing and hitscan threats for diem. The Dragons also made a big upgrade at flex tank, bringing in a rock-steady veteran in Void to fill a position they often replaced with a third DPS in 2019.  Now, they have someone who, at worst, is never a liability and at his best can carry a teamfight on any of the required picks.
Here he does it not with the Gravitic Flux, but with his positioning after. He drops in on Happy, simultaneously finishing off the Charge sharpshooter and taking control of the high ground for his team. Void's position forces Guangzhou to give up their aggressive push and paves the way for a diem Deadeye to end the fight.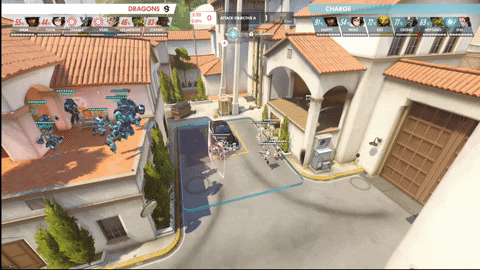 Potentially their most impactful signing was LeeJaegon. A Lucio savant and a playmaker who's never seen a duel he won't take, LeeJaeGon sets the tone for the entire team. He is always in the thick of a teamfight, hunting for a mis-positioned opponent to boop or just outright kill. He leads all Lucios in Eliminations and Environmental Kills per 10 minutes, and his numbers translate to the team. Shanghai sports the best teamfight win rate of any team in the league when playing Lucio.
More Than Just LIP Service for Shanghai
Despite LeeJaegon's stellar Lucio play, he might not even be the top Rookie of the Year candidate on the Dragons. That distinction goes to LIP, a player who entered 2020 as a relative unknown after team success eluded him in the hyper-competitive Korean Contenders landscape. He's not the first superstar talent to suffer that fate, as his teammate Fleta can attest, and he won't be the last.
LIP has quickly made himself invaluable to the Dragons, combining with Fleta to form a duo capable of thriving week to week during Hero Pools. Mechanically, his Hanzo is one of the best in the league, and he's been a reliable option on Reaper. But it's on Sombra where LIP really distinguishes himself.
For starters, he leads the League in Ddmage per 10 minutes on Sombra by a significant margin (nearly 10% higher than Danteh in second). Beyond the stat-padding, that means that he charges EMP faster than any other Sombra in the league, using the ultimate once every two minutes on average. Power farming EMP has been a viable strategy for some time, but it's become even more potent thanks to the spread reduction Sombra received in early March.
That focus on Sombra's ult can be a double-edged sword at times. Notice how LIP positions himself in this opening fight on Ilios. He takes a wide-angle away from his team, giving him a great opportunity for damage. He gets an early EMP lead, but it's Bazzi who manages to get the fight-winning hack.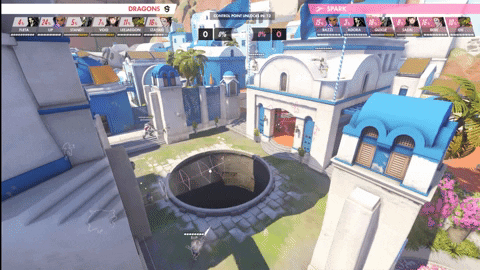 That being said, when LIP does find those isolated hack targets, it absolutely turbocharges his ult generation. In that same series against Hangzhou, his opening hack onto Bebe wins an early teamfight on Dorado and starts the snowball rolling downhill. LIP has EMP a minute into the round, and there's simply nothing the Spark can do in reply.
LIP's prowess on Sombra gives his team a massive leg up in the Asian region, where Sombra has been a fixture. LIP has been at the head of the pack so far, and his damage output lets Shanghai avoid the usual pitfalls of Sombra comps. They don't have to sacrifice neutral teamfights when LIP deals damage more in line with the average Hanzo or Tracer than his fellow Sombra players.
For their part, the Dragons love playing Sombra comps. Their 59% win rate on the hero is highest in the league among high-volume Sombra users, and she's their second-most-picked hero overall. That's with Sombra banned in two of the four weeks they've played.
With Hero Pools now based on Competitive Play, Sombra shouldn't be at much risk going forward. Expect to see plenty of LIP on his signature hero, and expect to see Shanghai on top of the standings as a result.
Kings of Asia
In Week 12, the Dragons took a massive step toward solidifying themselves as the top team in the Asian region. They took care of business against the Charge, sweeping Guangzhou for the third time this season. But it was against the Seoul Dynasty that Shanghai really made their statement.
It was supposed to be the match of the year, two of the league's best teams duking it out for supremacy. Instead, the Dragons romped to yet another 3-0, their fifth straight sweep and seventh in just nine matches this year. It was utter domination over a team many considered the best in the league.
Shanghai did it with a complete team performance. Despite primarily serving as the team's Winston specialist this season, Fearless was impeccable on Reinhardt, making Gesture look foolish throughout the series. Void showed the value in a versatile flex-tank, outperforming Marve1, who looked shaky trying to match him on D.Va. Even when he was put on Mercy duty for much of the series, LeeJaegon still found his moments to pop off.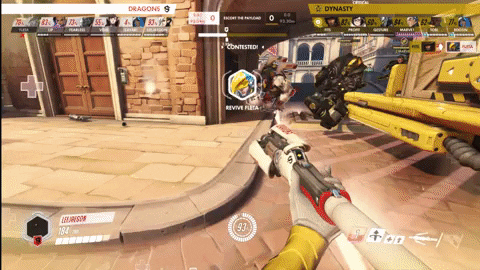 At the end of the day, it was the DPS who stole the show. LIP was his usual spectacular self, this time putting in work on McCree, racking up 24 Final Blows in just 16 minutes of play. For his part, Fleta finally got to show why he's revered among DPS players.
After spending much of the season on thankless picks like Mei and Reaper, Fleta was unleashed against Seoul. His Pharah terrorized the Dynasty on Hanamura and Rialto, forcing Marve1 to play D.Va and opening all kinds of space for his team.
Together the two died just 12 times in the entire series. The Dynasty duo of Profit and Fits had 45 deaths between them. That speaks more to the lopsided nature of the series than anything, but Fleta and LIP hunted down their counterparts with a terrifying ferocity.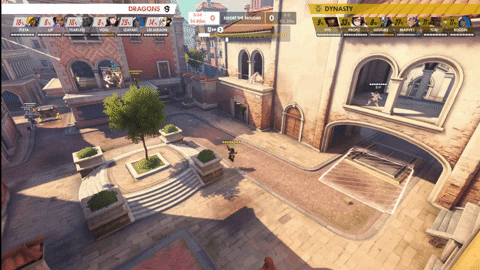 Right now, the Shanghai Dragons look to be the best team in the league. No one else has shown their level of dominance and versatility during Hero Pools. Even the Philadelphia Fusion, the nominal league leader at the moment, have had plenty of close calls and moments of shaky play against much weaker competition in the Atlantic Conference.
Those two won't play any time soon, so for now the matchup is only hypothetical. Until then, the Dragons will keep on tearing through the Asian region. They'll keep impressing with their ability to play any meta that pops up. They'll keep building on everything they've already accomplished. They'll keep reaping the benefits of their bold gamble.